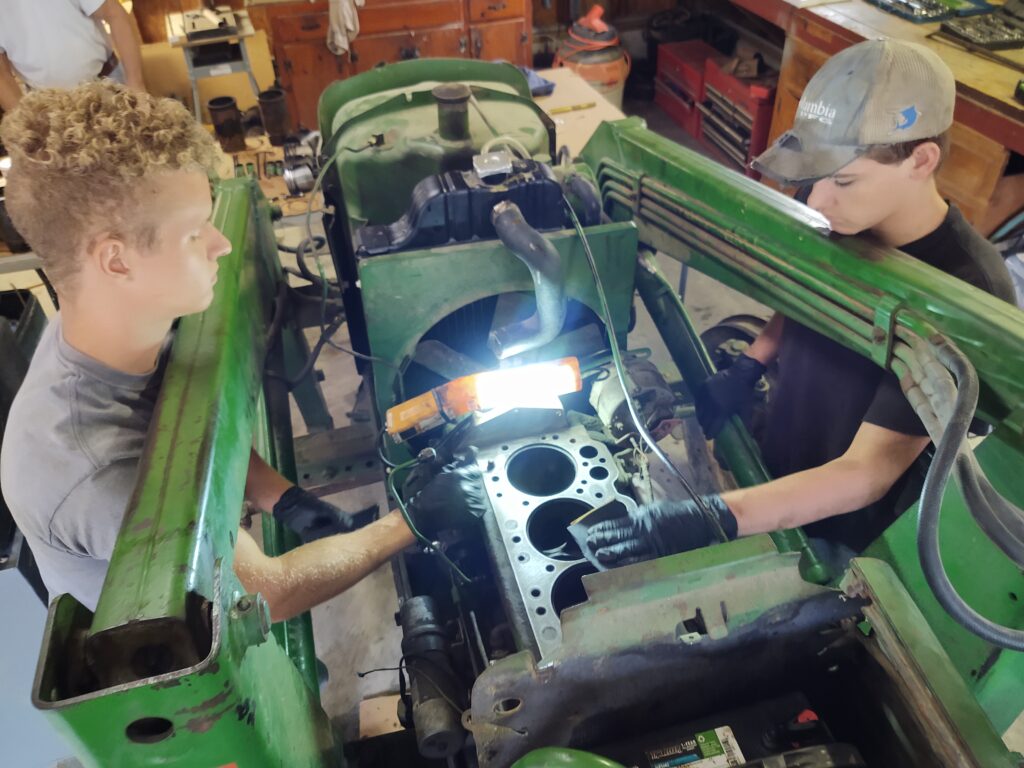 We are SO EXCITED about this new development of the after school workshops. We started last year with the idea of a diesel mechanics class. Then our pole barn burned down along with one of our tractors. Then the Corona virus shut everything down. However, we have been raised back up from the ashes. Now we are moving forward with a new shop, and a new direction–more and better. Instead of a single class, we are opening a whole new arm of our ministry. After-school classes open up a vast potential of student impact. The idea is to bring in volunteer experts who will be instructors in a class on their field of expertise once a week for four to six weeks. Then we open up these opportunities to students to come and gain valuable experience and knowledge. There is no limit to what we will be able to teach with this new system. Our first offering for the fall demonstrates the wide variety of possibilities–"Deisel engine reconditioning," "Arborculture," and "Drone building." With this "open source" teaching model,  The sky is the limit!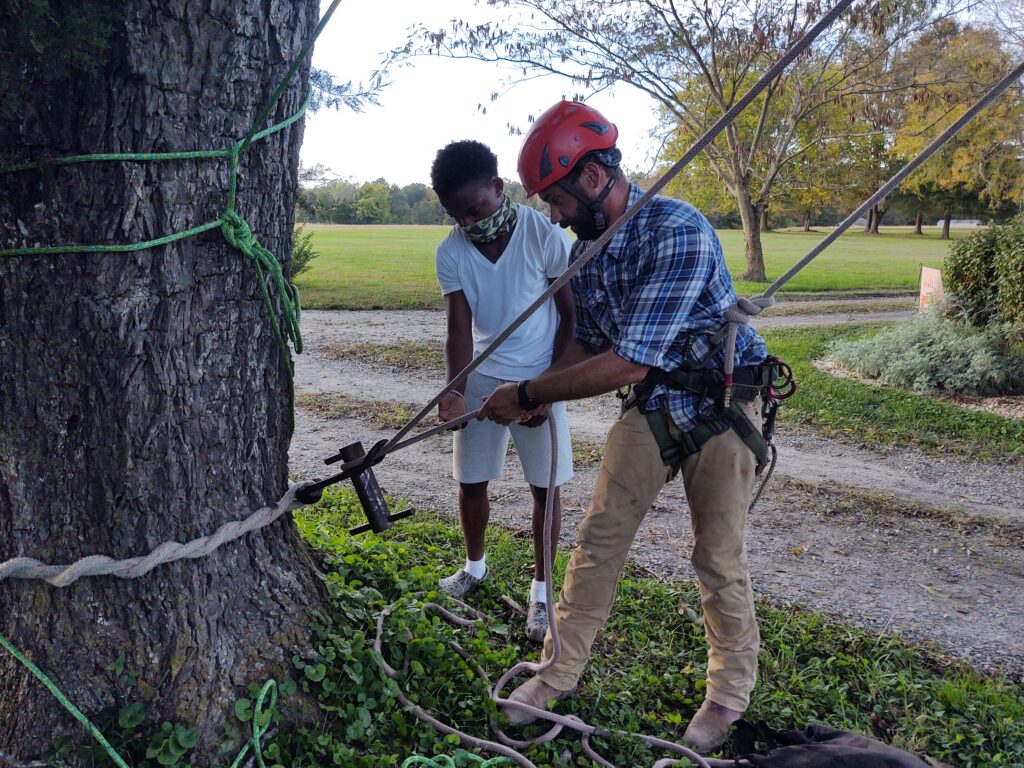 We have been moving forward with Arboriculture, and Diesel. A local arborist Luke Scott of LG Scott Landscaping Co. right here in the county is volunteering for a six week class. He is giving a fantastic overview of the kind of career and proficiencies students could acquire in the field. The classes are so informative! Davion, one of our students, has always had a passion for forestry and tree work. He is getting some really great training and an introduction to a field that could land him a very rewarding career.
The diesel class is the real deal! We are tearing down and doing an in-frame rebuild of a John Deere fifty horsepower tractor engine. Reuben Smith and Mark Tignor are co-instructors on this one as Reuben has had a good deal of field experience with diesel, and Mark brings 30 plus years of professional experience with Caterpillar Diesel.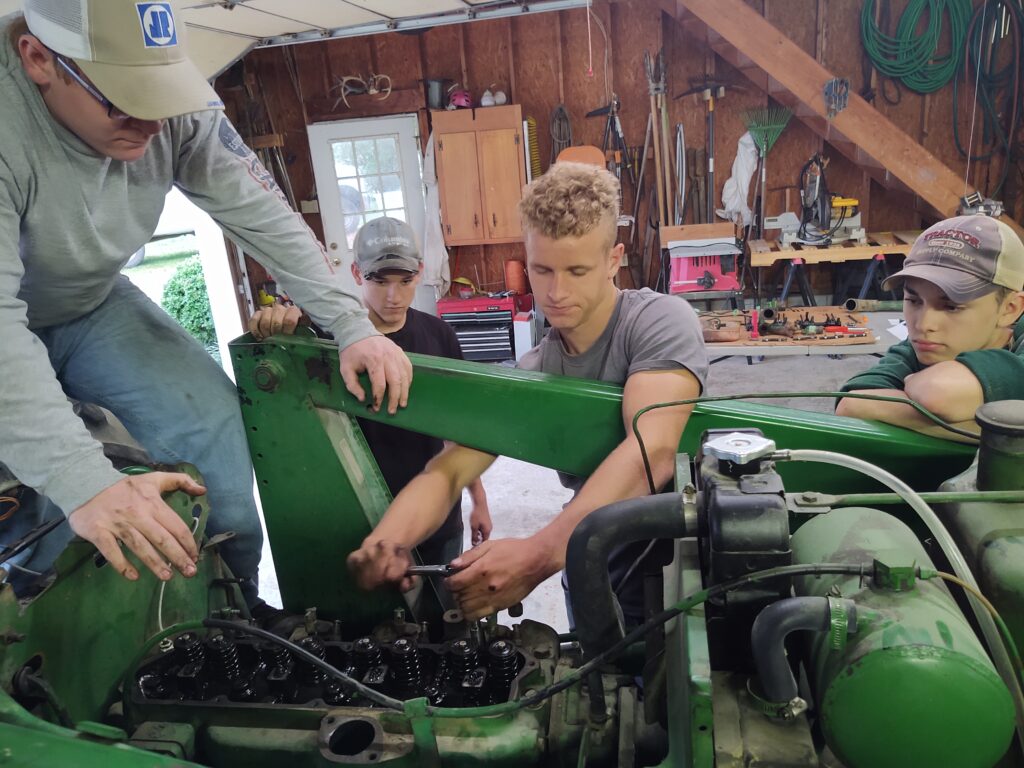 We began the rebuild by faith knowing that we didn't have enough money to cover all of the parts. While approaching local businesses for support, we were were given some really important Divine connections and some miraculous provision. At the point when we couldn't move on because we needed a rebuild kit, one of our new local business partner popped by and gave a donation that covered the kit. Then the machine shop estimated reconditioning the head at $500. We didn't have the money so we prayed. That very evening, just a few hours later, another local individual gave us a sealed envelope. In it was a check written and sealed up the day before. The check was for $500. There was a note in the memo line "for tractor parts." This person had no idea of the pressing need for that exact amount. Thank you to all of our amazing donors, who are making this class possible. We couldn't do it without you!
The class is going faster than anticipated, and the rebuild is turning the corner from teardown to reassembly. We look forward to hearing the engine roar to life and putting the tractor back into service on the farm. Dylan and Hosea are pictured here removing connecting rods from the crank shaft. Dylan, who has a passion for mechanics has been so excited about the class and is learning so much. Thank you to everyone who is making this a reality for him and the others.